Description:
We are Andy and Sally Greenwood, WPA Healthcare Partners. Our focus is to help new customers buy medical insurance; particularly the self-employed, company directors and professionals.
We also specialise in dealing with company policies for 2 employees and above through our Corporate Health Insurance.
We are here to help you at every stage of your journey with WPA.
From finding the policy that best suits your needs, to helping you when you come to make a claim. You can rest assured that we will help you to choose the right cover at the right price. We are available however you choose, be it a meeting, by email or over the telephone, at a time that's convenient to you.
SPECIAL OFFERS -
1. To view WPA's latest offers, for new customers, click here www.wpa.org.uk/andygreenwood
We are proud to have achieved the 5-star rating from Moneyfacts for our health insurance for families
- at one address (Flexible Health) and
- for families at separate addresses (Multi-Family),
News Article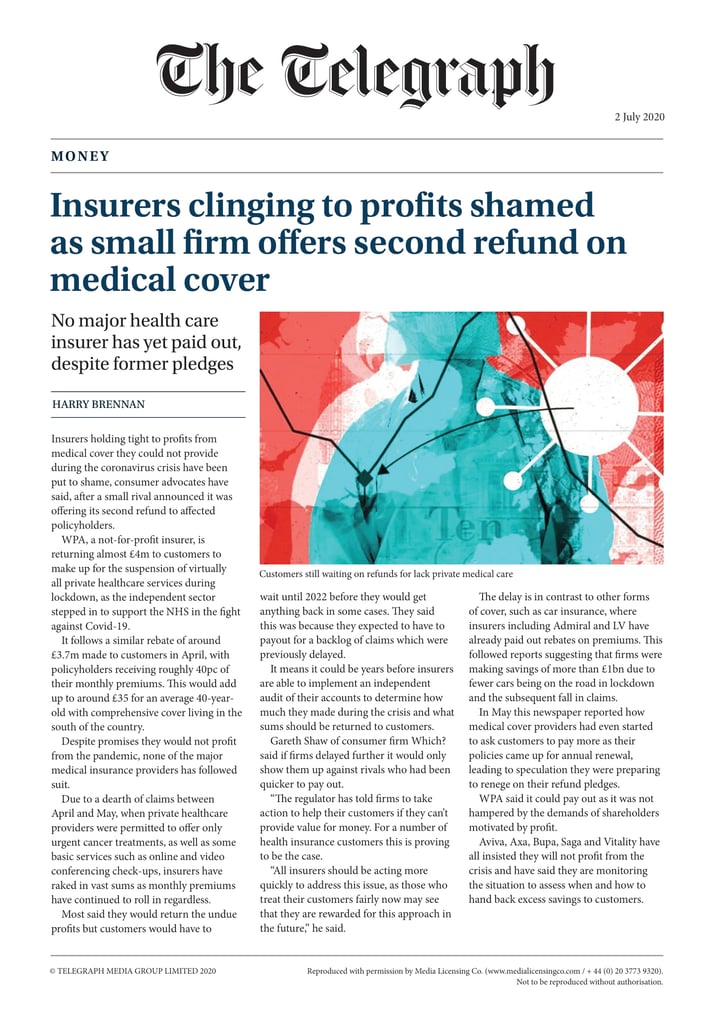 Contact Andy or Sally as below:
Office: 01438 869705. Sally 07838 702894 or Andy 07533 363889
Email: andy.greenwood@hcp-plc.org.uk or sally.greenwood@hcp-plc.org.uk
Twitter: Sally E Greenwood or Andy Greenwood
Linkedin: Sally Greenwood on Linkedin or Andy Greenwood on LinkedIn
1 Sally Greenwood on behalf of Andy Greenwood. Andy Greenwood is an Appointed Representative of WPA Healthcare Practice PLC which is authorised and regulated by the Financial Conduct Authority.
Articles of Interest
https://www.healthinsuranceandprotection.com/healthcare/pmi/wpa-sets-the-benchmark-with-pmi-rebate-pledge-to-individual-and-sme-members
https://www.healthinsuranceandprotection.com/healthcare/pmi/wpa-pledges-second-rebate-to-customers-as-covid-19-keeps-private-hospitals-locked-down
https://www.independent.co.uk/news/health/coronavirus-nhs-waiting-times-surgery-privatisation-a9550831.html
https://www.moneysavingexpert.com/news/2020/06/medical-insurer-wpa-to-pay-out-second-rebate-to-customers/
WPA Benevolent and Charitable Foundations
Below is a link to the BBC website where you can enter your postcode to see how well your local NHS trust is performing against various targets.